Foundation
Activities
1991 PARTICIPANTS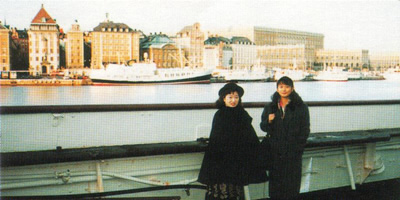 Ms. Inoue (left) and Ms. Ohe, in Stockholm
A limousine come to pick us up at the hotel where we had been staying. I was the last one to get into the car as it took time to change into my furisode-long sleeved kimono.
In 1991, the Nobel Prize marked its 90th anniversary, and all the past prize winners were invited to the award ceremony to celebrate the occasion.
The City Hall where the ceremony was usually held was too small to accommodate all the attendees, so the 1991 ceremony took place in the Globen Convention Hall.
The Hall was filled with formally dressed up ladies and gentlemen, and I was amazed to see that there were lots of students with a white cap, perhaps more than half of the guests, invited to the ceremony. A white cap itself did not go with a white tie or a long evening dress, but every single student looked so proud of wearing a white hat.
The ceremony started. The Swedish Festival Music which has been played since the first ceremony in 1901 brought in the past Nobel laureates.
Among the laureates were elderly people, some in wheelchairs. I felt the dignity of the Nobel Prize history. The glorious atmosphere with consecutive musics and speeches gave a great impression on me. I will never forget this gathering of world-famous scientists.