Foundation
Activities
1992 PARTICIPANTS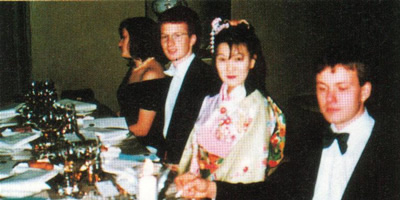 Ms. Endo at the Novel ball (center)
I was fortunate to participate in the 17th Stockholm International Youth Science Seminar ("SIYSS"), which was held during the Nobel Week, December 4 through 11, 1992.
The purpose of the seminar is to encourage and stimulate the students of many countries of the world who study the science and technology and participate in the Stockholm seminar, by offering opportunities to make precious exchange with the Nobel Prize laureates.
The 17th seminar collected such students from 17 countries, aged 16 through 28.
The seminar program included lectures by the Nobel winners, courtesy visits to Her Majesty Queen Silvia and the Nobel Foundation and tour to Karolinska Institute.
I was continuously tensed during such events.
The seminar further included the formal events of the awarding ceremony, banquet and ball, which necessitated us to wear Japanese traditional and formal clothes of Kimono.
My realistic finding was my own Kimono of long-sleeved Furisode type had not been appropriate for dancing in the ball
In the reception party for the Nobel laureates, I had opportunities to ask personally to the laureates for their research works, which were very significant experiences.
The words left in my mind more than anything else were "Go your own way" given by a laureate to our colleague young scientists.