Foundation
Activities
1992 PARTICIPANTS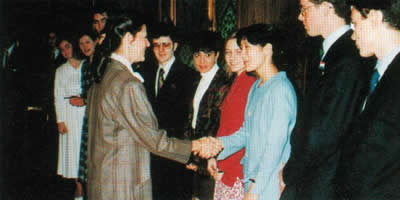 Ms. Iseki shaking hands with Queen Silvia
I was unexpectedly given an opportunity to participate in the 17th Stockholm International Youth Science Seminar ("SIYSS") and to attend the 91st Nobel Prize awarding ceremony and its related events.
For people living in Stockholm, the Nobel Prize awarding ceremony held on December 10 was in a sense, a festival.
Other than the ceremony, the lectures by the Nobel Prize laureates and receptions for the laureates were held and individual and department stores were decorated with various displays for celebration.
The day when the awarding ceremony held at the concert Hall and the banquet followed at the City Hall was really the climax of the festivities.
The scenes of the ceremony and the banquet were broadcast over TV network.
At each course of dinner dishes during the banquet, the attendees enjoyed a different performance of entertainment, which should have given a great fun for TV watchers.
Although not every citizen could attend the ceremony nor lectures nor receptions, I felt the entire city was fascinated with the honor that the awarding ceremony of the most prestigious Nobel Prize for scientists had been held there.
I fell very honored that I attended the awarding ceremony, which was so solemn and seemed loved by people of Stockholm.
I would very much appreciate to all people concerned, who gave me such opportunity to make precious exchanges with the students sharing to major sciences and to mutually understand various views and thoughts.