Foundation
Activities
1995 PARTICIPANTS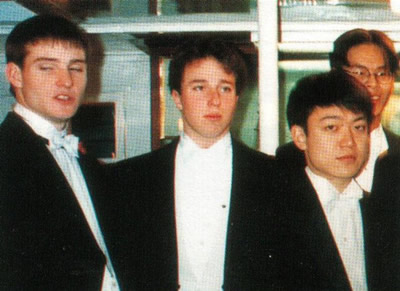 Mr. S. Nakazawa (Second from right) with foreign students
The Nobel Prize Awards Ceremony ended. Next, the Nobel Banquet was held at the city hall. On the stage at the hall there were ballet and opera performances and then the laureates made their wonderful speeches. Everyone felt the emotion of the atmosphere and shared in the radiance of the occasion. Brilliant tapestries were hung from the windows of the hall.
I closed my eyes to shut out the flash of the cameras, but I could still see before me the scene of the laureates hugging each other in delight after the ceremony ended.
I thought to myself: This is one tapestry. Here are different people from different cultures who have woven themselves into that tapestry as individual threads. And tin the tapestry one sees a single beautiful dream, as envisaged by Nobel as his contribution to the peace and happiness of mankind.
I felt intense pleasure at being on the spot, and I hoped that we could inherit the dream.