Foundation
REPORT
2004 PARTICIPANTS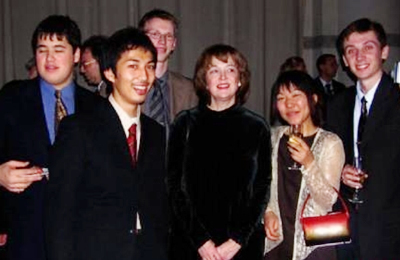 We participated from December 4-11 in the Stockholm International Youth Science Seminar 2004 as representatives of Japan sent by the Science and Technology Foundation of Japan. We learned about the life in Stockholm before we left Japan, as the staff of the Foundation kindly held meetings to introduce us to travel agency staff, and previous participants in the program. Together, they briefed us on what to expect in Stockholm.
Once over there we had to follow a tough schedule, actually beyond our imagination. We gathered for seminars and sessions with participants in the program from other countries. All of us, no doubt, want to serve as scientists. We experienced many programs together. Almost all the others were 2-3 years younger than we, but they turned out to be strong characters with projects of their own. Talking with them was a great experience.
Following the program we took part in the Nobel Festival and other events, and we had the great good fortune to speak with the Nobel prize-winners on occasion. They were friendly towards us, quite beyond our expectations. Thus we had the opportunity to hear from them about their research and to learn how they regard science. We came to understand the sincerity of their interest in studies, and the pride they take in their work. In addition, we were able to visit institutes near Stockholm, and meet with high school students also.
Summing up, we were able to expand our horizons, thanks to this SIYSS2004. The program served to give us incentives for the future, and enabled us to make friends. To continue to progress, we aim to study more and to keep in mind the precious experiences we had. Last but not least we are deeply grateful to those who gave us the chance to participate in the program.