Foundation
REPORT
2006 PARTICIPANTS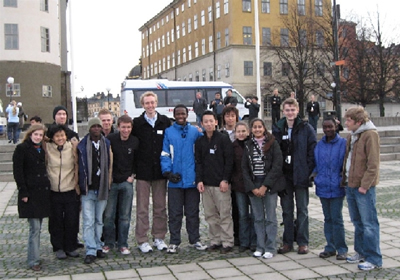 We attended the 31st Stockholm International Youth Science Seminar (SIYSS) held from December 4-10, 2006. SIYSS is a weeklong seminar held in connection with the Nobel Prize celebrations. It was an inspiring opportunity to learn, interact with fellow students, make friends and enjoy ourselves. The Science and Technology Foundation of Japan (JSTF) allowed us this priceless opportunity. We were very fortunate to spend this valuable time with 22 other participants, young student scientists from 16 different countries, and eight coordinators from Sweden.
The program included attending the Nobel speeches and lectures, conversing with Nobel laureates, visits to the world-renowned universities and institutions of Sweden, and interacting with other participants from all over the world. Opportunity to talk and learn from the vanguard of contemporary science and technology, and witnessing the historical award ceremony for the highest achievements, was highly inspiring and stimulating. The SIYSS symposium also provided us with a great platform to present our own research work to our fellow participants, young students and professors and researchers in Sweden. Besides exploring science and technology, such experiences have enabled us to make international friends as well.
The seminar ended with the Nobel Award ceremony. It was a wonderful experience to be the part of the formal (award ceremony and Nobel banquet) and informal (night cap) parts of this celebration. Wearing the traditional Japanese Kimono and Haori Hakama costumes during the event was highly enjoyable.
SIYSS has been a wonderful experience filled with educational, inspirational and social opportunities that will greatly influence our scientific career and development.