Foundation
Activities
2013 PARTICIPANTS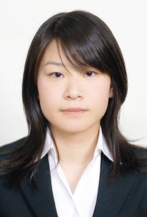 Hanae Shimo
Keio University
I had the opportunity to participate in the Stockholm International Science Youth Seminar (SIYSS) held last December, as a representative student of Japan. SIYSS is a weeklong event that encourages cultural exchange and friendship between young scientists from all over the world, meeting and talking with the Nobel laureates, while also allowing participants to take part in the Nobel festivities such as the Nobel Award Ceremony and Nobel Banquet. Through this experience, I was able to become more familiar with the qualities that a good scientist should possess, as well as gain insight on the tasks I have yet to work on.

The climax of the week was most definitely the day of the Nobel Prize Award Ceremony, however another event that I personally enjoyed was the ethics seminar, which took place at the beginning of the week. In this activity we discussed ethical issues (such as artificial intelligence and transplant technology) within the groups that we were divided in, and presented our thoughts to specialists. It was a valuable occasion for us to deeply think about the responsibility of scientists, as we were faced with questions such as "May scientists be allowed to do anything and everything, simply because they are able to?" and "If we were to draw a line somewhere how would we define it and should it be done by scientists themselves?" Since this was the first time I had really thought about such issues, it was a very memorable and precious experience.

At the lectures and press conference given by the Nobel laureates, we were able to hear the details about the sequence of events that lead to the award, and the background of each research field. From the talks we could sense that the birth of a breakthrough is largely dependent on the accumulation of years worth of prior research. The lectures were very exciting for me, especially because this year's Chemistry award was very closely related to my research area. Also, the words by James Rothman "The difference between a great scientist and a not-so-lucky one, is that the former fails 99% of the time, and the latter 99.9%" left a strong impression. The weight of the words coming from a laureate himself, expressed the importance of not being afraid of failure, and having the emotional strength and confidence to overcome hardships. 

Through spending time with the other participants, I became more conscious of the qualities I lacked. Although most of the others were younger than me, I was impressed to see that on top of their scientific knowledge, they also had strong interest in other people 's opinions, and were always unafraid to speak their mind. While walking back to the bus after lectures, I would often get asked "What did you think of that lecture?" and there was also a time where some members were unsatisfied by a certain lecture and were openly yelling, "His presentation wasn't scientific at all!" Seeing them, made me realize my passivity towards University lectures, and understand the importance of active thinking, open communication of one's thoughts, and learning within a group of people with various backgrounds and values. Additionally, through conversations with them, I became more aware of how blessed Japan is in terms of research facilities and living environment. The stories of conducting experiments using substitute materials in their cellar or garage due to lack of materials, or of only being able to select theoretical research topics due to lack of funding, probably are something I could have not heard just by staying in Japan. These allowed me to become more conscious of my obligations as an individual being born and educated in Japan, a country that is seen as rich environment from all over the world. 
The SIYSS program was only a weeklong event, however it was one of the most enriching and fulfilling weeks that I have ever experienced. I doubt that I will ever forget this memory of attending this ceremony of world-leading scientists. Building on this experience, I would like to work towards becoming a scientist that has an active attitude towards science, and while always keeping in mind the ethical responsibilities, become a pioneer who leads a new scientific era.

Lastly, I thank all the people of the Japan Prize Foundation whom enabled me to experience such a valuable opportunity, the local coordinators who have worked so hard to make the best out of this enjoyable week, and all other people associated with the events of SIYSS.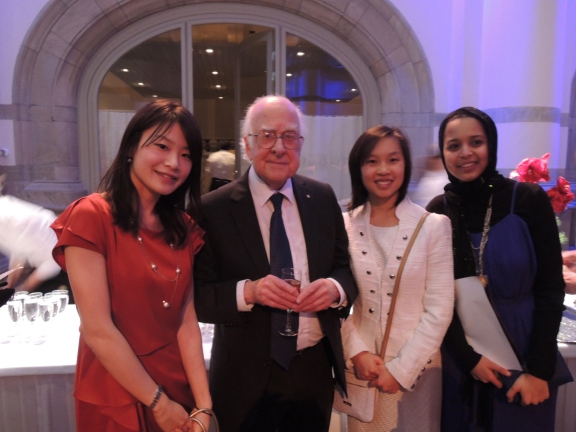 With Peter Higgs, winner of the Physics Prize