Foundation
Activities
2013 PARTICIPANTS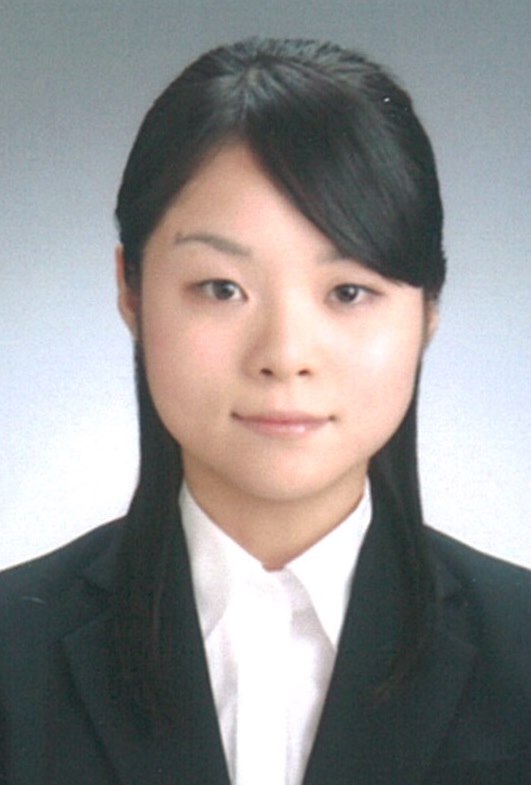 Tomoyo Suzuki
Sophia University
I knew the SIYSS (Stockholm International Youth Science Seminar) 3 years ago and felt how wonderful it could be. Listening to the stories of my teacher in her lecture, who has once experienced the SIYSS, it seemed too far from me. I remember the moment when chatting with my friends about this program with an extraordinary excitement after her class. Since then, this program had been somewhere in my mind, knowing that how difficult it must be to actually join. So it was my great pleasure and honor to participate in this program this year. I spent the 'Nobel Week' in Stockholm being fully aware that I am one of the representatives of the Japanese young scientists.
    
With 23 attractive participants from 17 different countries, I fully felt the unique atmosphere of the 'Nobel Week' in Stockholm ? Nobel lectures by the laureates, Nobel receptions, awarding ceremony and the banquet. In addition, I presented about my research in front of quite a large number of Swedish high school students, which gave me a strong sense of accomplishment. The Nobel lectures and communication with attendants were most inspiring and impressive for me.
Through the Nobel lectures, I could feel the personalities of each Nobel laureate, in addition to understanding the contents of their work. This was a great chance for me to feel much closer to the laureates than ever before. It must be common to every laureate that they have been cherishing and making tremendous efforts toward their research subjects. The differences are their own personalities. Especially, I was so happy to see the sense of humor and warm personalities of the Nobel laureates in chemistry, as one of the students majoring chemistry. Prof. Martin Karplus talked about his wish with joking like 'If I were younger, I would simulate the complicated brain system!', and made the audience members laugh, in addition to the future visions toward computational calculations on much more complicated systems, based on his own work. Prof. Michael Levitt finished his lecture by showing his appreciation to his family and collaborators, and also, by giving memorable messages for young scientists. He appreciated his wife, who was in the very front row. He encouraged us, who were quite back in the hall, saying 'Take chances but do not be too stupid. Be passionate, be persistent, be original, be kind and good.' The attitude that they showed deep appreciation for all the people around them was impressive, which has driven me to think once again about my own personality as a young scientist. Now I remember many faces of people, who have been involved in my life, with deep gratitude. I want to improve myself, both as one of the future scientists, and of course, as one of the human beings living in this world.
By sharing the time with other participants, I have learned a lot from them. The contents of their research projects, presentations and their high interest in culture were inspiring. Also, I had a fantastic time talking with people who study chemistry as well. It is also true that they made me realize my present English abilities in terms of communication. I have noticed how deeply languages, communication and human relationships are related.
It was surprising that many participants had found their research projects in their close environment and that their abilities to tackle and reveal their own questions are very high. Also, talking about various things like culture and school systems with people from different countries was precious. It was quite interesting that one of my friends from Hungary showed strong curiosity toward my electronic dictionary. I had fun with talking about our laboratories, research projects and published papers with some of my friends who learn chemistry as well. I could recognize that chemistry is common all over the world. I am again fascinated by science, which has something the same wherever it is studied. Through conversation with various people, I realized it is essential to actively participate in conversation so that I can build up friendships. I understood the importance of abilities to use languages, having what to talk and sharing my own opinions, in order to get to know each other. Sometimes, I could not participate in conversations with my roommates or during breakfast, sitting at the same table. Whenever these happened, I was afraid to be thought as a difficult person to become closer to. Thinking about this experience in a different way, however, many factors are involved in building up human relationships, which means that having and keeping good relationships are much more wonderful than expected. I will always keep this in mind and develop my abilities to communicate, not to lose chances to build precious friendships.
I would like to show my deepest gratitude to all the coordinators in Stockholm, who had long prepared and enabled us to spend a wonderful time. I really appreciate their hospitality. Also, I am very thankful for the Japan Prize Foundation, which has given me such a precious opportunity once in my life. I also thank for the people in my university, my professor and laboratory members, and my family. Without all of them, I could never have these valuable experiences.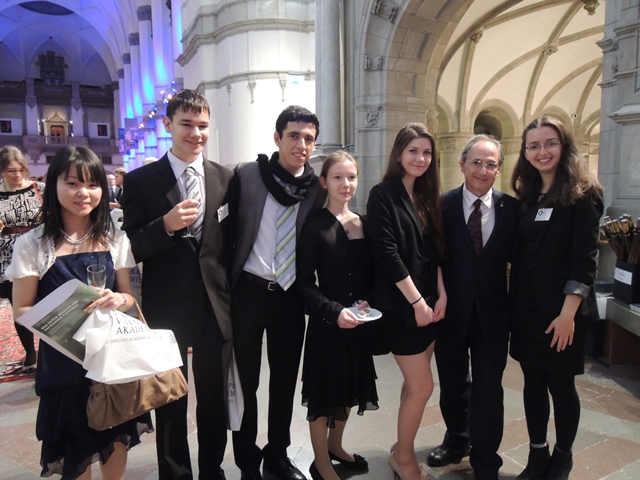 With Michael Levitt, winner of Nobel Chemistry Prize