Foundation
Activities
2015 PARTICIPANTS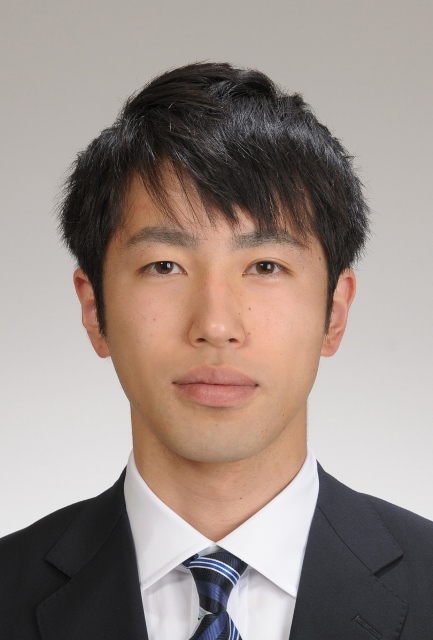 Takumi Ohashi
Tokyo Institute of Technology
<Preface>
Beginning of the December, 2015, I participated in Stockholm International Youth Science Seminar (SIYSS) which 25 young scientists from all over the world gathered at. Although it was very short, the nine days with young scientists who have various background were so simulative and meaningful. From bottom of my heart I would like to express my gratitude for giving me such wonderful opportunity to the Japan Prize Foundation, sending organization, and Unga Forskare, hosting organization in Stockholm. Here, I would like to share my motivation of this participation, lessons from the nine days, and future directions.
<Reasons for participation>
Once I used to want to be a teacher who can give the extensive options for students using my own experience, because of the experience that my horizons were broadened thanks to the meeting with one of my English teachers. A big impact, which I got in my internship at water supply & sewerage authority in Bangladesh for three months, changed my mind. Before going there, I was firmly determined to make something better in Bangladesh since I was sent as one of the represent from Japan, however, I had gradually realized I cannot do anything. I felt I should have at least one strength to solve these deep-rooted problems. In other words, I need to have the ability not only to show the options from my experience but also to describe the future based on my mind and infiltrate/restore them worldwidely. It made me want to work with the pillars of both "science & technology" and "education". Needless to say, one of the reasons why I applied to this SIYSS was for getting lots of experiences in terms of science and technology. Another reason was that I wanted to broaden my horizons for my ideal education through talking with wonderful young scientists from all over the world and to know how to organize this SIYSS as the student coordinators.
<International exchange with young scientists>
At that time, I was the oldest participant in the group. Although almost all were 18/19, I was so surprised that they had lots of knowledge regarding international various situations and their own concrete opinions on each topic. Additionally, they had enough ability to deliver their opinions to all. Those facts let me think how they have stacked their opinions. I felt them in one of the SIYSS event, ethics seminar. We faced so tough questions on ethical issues and we unfortunately had insufficient time to discuss them, however, I was so surprised that they tried to construct their opinions minutely with their background and knowledge. I felt it was the result of their postures for various problems as always, and it made me realize that I should have wider view.
<Nobel-related events>
During the SIYSS period, I could take part in lots of Nobel Prize related events such as reception, award ceremony, and banquet. Among such events, Nobel lectures conducted by the laureates were the most impressive for me. They made talks on the processes to reach Nobel prize sometimes with humor. Here I would like to share the lecture by literature laureate, Svetlana Alexievich. She, who has been particular about describing personal feelings, shared the episode on gathering so many voices by taking interviews little by little through walking across the world. It gave me a lesson that enormous number of steps can make wonderful values. It must be common for all laureates and should be common ability as one of the scientists that we have to consider every single small step as one of the most important thing. As I mentioned, due to my narrow minded, if I hadn't got this opportunity to participate, I would not have got interested in Nobel prize in literature. Therefore, I was so lucky enough to realize this very important lesson.
When I took part in the reception held by Japanese embassy, I could luckily have the opportunity to talk with Prof. Satoshi Omura, a laureate in physiology or medicine. Through my experience described before, I am interested in the education in developing countries, so I asked Prof. Omura, who has researched for people in various countries, what the most important thing to conduct the project focusing on overseas is. "Human network and connection are important things", he said. It was so impressive for me that he emphasized the connections with others are the platform for making result. Through this talking with Prof. Omura, since what one person can achieve is very few, it is necessarily to clarify that from which position is suitable for me to work against the big goal. In addition, this realization let me think from which position (research, governance side, etc.) I should work for the big goal of the education in developing countries, and it became one of my milestone to consider my future career.
<SIYSS for me>
           I learned lots of things from impressive talking with the laureates and young scientists in the Nobel week. In addition, I was so moved when I participated in the Nobel-related events. Furthermore, when Profs. Omura and Kajita received the prize from King of Sweden, I was so proud of the fact that I'm also one of the Japanese. Last but not least, I would like to express my gratitude to have these wonderful opportunities, and study/learn hard to achieve my goal in the future, with the precious lessons from SIYSS..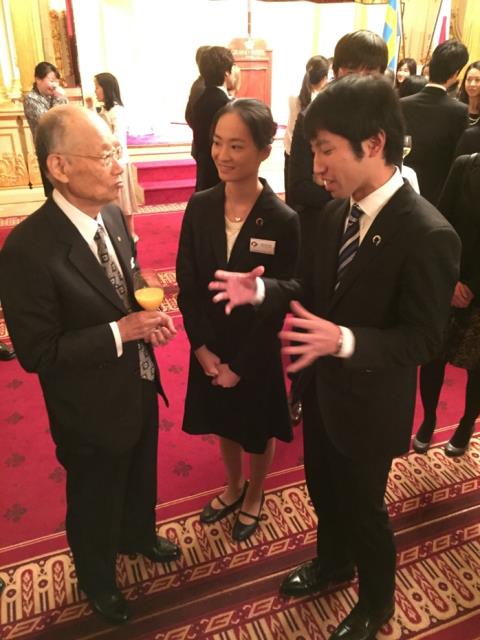 With Satoshi Omura, winner of Nobel Physiology or Medicine Prize