The Japan Prize Foundation
Bearing in mind the fact that peace and prosperity for mankind is the common aspiration of all people, The Japan Prize Foundation encourages research that will contribute to the development of science and technology, and promotes the comprehensive spread and development of ideas and information in science and technology.
History
In November 1982, the Japan Prize Preparatory Foundation was set up with the approval of the Prime Minister for the purpose of establishing the Japan Prize as a prestigious international award in the fields of science and technology.
The creation of the Japan Prize was motivated by the desire to express Japan's gratitude to international society. This plan was advocated in 1981 by Dr. Taro Nakayama, the then Director-General of the Prime Minister's Office, and was supported with the funds donated by the late Mr. Konosuke Matsushita, the founder of Panasonic Corporation.
Further details are available here.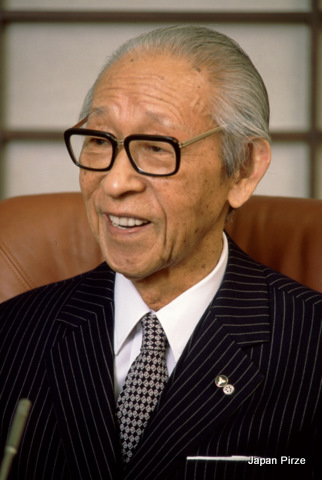 Konosuke Matsushita
First Chairman of
the Foundation
Activities
While awarding the Japan Prize to scientists and engineers is the primary responsibility of The Japan Prize Foundation, it also engages in symposia, lectures and discussions with international scientists, and supports additional educational activities, as explained here.