Japan Prize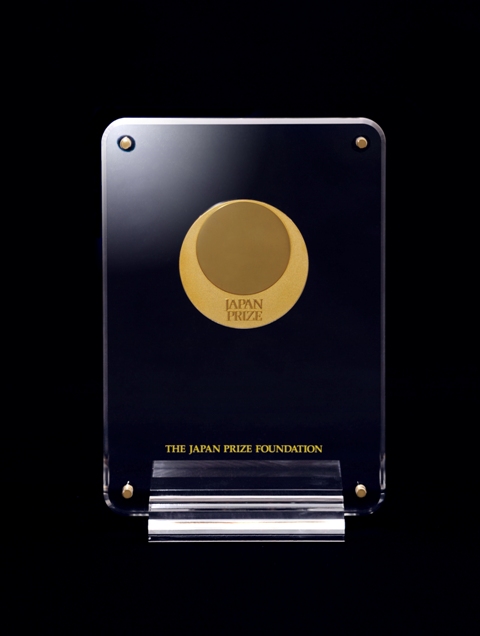 The Japan Prize is a prestigious international award presented to individuals whose original and outstanding achievements are not only scientifically impressive, but have also served to promote peace and prosperity for all mankind.
The Prize is awarded by the Japan Prize Foundation. Since its inception in 1985, the Foundation has awarded 94 laureates as of April 2018 from 13 countries.
In principle, the award is intended for a single person but small groups of researchers are also eligible. The person must be alive to be named a Japan Prize Laureate. A complete listing of the Laureates honored to date along with information about their research is available here.
Each year the Foundation designates two fields for award presentation.
What the Laureates Receive
Each Japan Prize laureate receives a certificate of merit and a prize medal. A cash prize of 50 million yen is also presented for each prize fields.
Japan Prize Presentation Ceremony

The Presentation Ceremony is held in the presence of Their Majesties the Emperor and Empress of Japan in Tokyo every April. The events are also attended by the Prime Minister, the Speaker of the House of Representatives, the President of House of Councilors, the Chief Justice of the Supreme Court, foreign ambassadors to Japan and about a thousand other distinguished guests, including eminent academics, researchers and representatives of political, business and press circles.
The week in which the Japan Prize is presented is designated as "Japan Prize Week". During this period, the laureates present commemorative lectures and attend academic discussion meetings. Additional activities include a meeting with the Prime Minister and a visit to The Japan Academy.
How the Laureates Are Chosen
Every November, the Field Selection Committee of The Japan Prize Foundation designates and announces two fields eligible for the prize to be awarded two years hence. At the same time, the Foundation calls for over 13,000 prominent scientists and researchers around the world to nominate candidates by the end of the following February.
For each field, the Selection Subcommittee conducts a rigorous evaluation of the candidates' academic achievements and presents the results to the Selection Committee for them to be reviewed from a wider perspective, including their contributions to the progress of science and technology and significant advancement towards the cause of world peace and prosperity. After these evaluations, the selected candidates are recommended for the Prize.
The Selection Committee then forwards its recommendations to the Board of Directors for final decision.
The nomination and selection process takes almost one year after the field are announced. The Japan Prize winners are announced every January, and the Presentation Ceremony is held in mid-April in Tokyo.