In addition to recognizing outstanding achievement with the Japan Prize, the Foundation also carries out the following activities:
Heisei Memorial Research Grants
The "Heisei Memorial Research Grant Program" is named after Their Majesties the Emperor Emeritus and Empress Emerita, who have been interested in the research activities of young scientists and have encouraged them for many years. The Foundation provides research grants to scientists mainly under 45 years of age. Every year, the Foundation selects four to eight scientists who undertake knowledge-integrated research that contribute to solving social issues, and gives fi ve to ten million yen. The Foundation encourages international collaboration of scientists beyond their expertise. (An applicant must belong to a research organization in Japan.)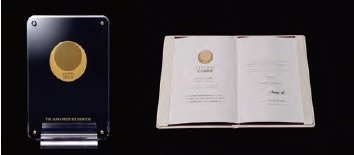 "Easy-to-Understand Science and Technology" Seminars
The Foundation holds a series of public and student seminars on advanced technologies commonly used in everyday life by inviting experts, who will explain state-of-the-art technologies in plain terms. The program began in March 1989 and has since executed more than 300 seminars across Japan by the end of 2019.