Laureates of the Japan Prize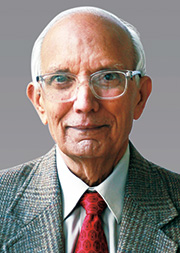 Rattan Lal, Ph.D.
2019 (35th) Japan Prize Laureate
Field

Biological Production, Ecology

Achievement

Sustainable soil management for global food security and mitigation of climate change
Nationality:
United States of America
Date of Birth:
September 5, 1944
Affiliation:
Distinguished University Professor of Soil Science
Director, Carbon Management and Sequestration Center
The Ohio State University
Education:
1965
Indian Agricultural Research Institute, India, M. Sc. in Soils
1968
The Ohio State University, Ph. D in Soils
Professional History:
1963-1965
Research Assistant, The Rockefeller Foundation, India
1966-1968
Research Assistant, Ohio Agricultural Research&Development Center (OARDC)
1968-1969
Senior Research Fellow, University of Sydney, Australia
1970-1987
Soil Physicist, IITA, Ibadan, Nigeria
1987-2011
Professor, Soil Science, The Ohio State University
2001 -
Director, Carbon Management & Sequestration Program, OARDC/Ohio State University
2011 -
Distinguished University Professor of Soil Science
Award and Honor:
1998
Hugh Hammond Bennett Award, Soil and Water Conservation Society
2005
Carl Sprengel Agronomic Research Award, American Society of Agronomy
2005
Norman Borlaug Award, IARI, New Delhi, India
2006
Liebig Award, International Union of Soil Sciences,Philadelphia, USA
2009
COMLAND Award, Commission on Land Degradation & Desertification, Berlin, Germany
2009
M.S. Swaminathan Award, New Delhi, India
2016
INRA, Morocco Government Award for Strategic Development of Earth System Science Worldwide
2018
GCHERA World Agriculture Prize, Nanjing, China
2018
Glinka World Soil Prize, FAO, Rome, Italy
Key Publications:

Lal, R. 2004. Soil carbon sequestration impacts on global climate change and food security. Science, 304: 1623-1627.
Lal, R. 2004. Soil carbon sequestration to mitigate climate change. Geoderma, 123: 1-22.
CJ Bronick, R Lal. Soil structure and management: a review. 2005. Geoderma, 124: 3-22.
(As of January 2019)